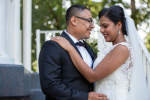 Silvi & Shibin
Anisha: Our Angel from Heaven!
What's more challenging than planning a wedding once? Planning it twice! Due to COVID, we had to reschedule our wedding not once but twice. Hiring Anisha as our wedding coordinator was one of the best decisions we made for our wedding. She played a significant key role in organizing our wedding. She helped us find our vendors within our budget and organized meetings with them, and kept them in the loop throughout our planning process. Anisha helped us with vendor site visits and asked questions that we didn't even think to ask. She got all our vendor availabilities, which allowed us to pick a new date for our wedding. Anisha was always a step ahead of us and had answers to our questions before we could even think of it.Anisha and Jerry took the stress out of our wedding day and made sure we focused our time on being present with our friends and families. They both helped us with the ceremony & reception set up while ensuring our wedding schedule ran as smooth as possible. Anisha was even our MC and DJ when needed. By God's grace and Our Day Events team effort, everything happened on TIME, which our family and friends highly appreciated. Anisha was much more than our "wedding planner"; she was our therapist when needed. Even when we were losing hope, Anisha was there to cheer us up without any judgment. ThankYou Anisha, for going above and beyond and signing your work with passion. We couldn't have done it without you, Anisha.

Kaitlyn & Jestin
Client
To say Anisha made our wedding day special is an understatement. She went above and beyond than anything I could imagine. I honestly don't know what we'd do without you! You were there for every single day if we need you, you'd call us back immediately, you made our life so organized and were on top of everything! Our day was special because of you! From the very first initial consultation to the day of, creating my emergency kit, helping me when I needed it, I knew I could trust you with everything! If you decide to choose Our Day Events, you won't regret the choice at all. Thank you for everything Anisha

Jestin & Kaitlyn
Client
To say Anisha made our wedding day special is an understatement. She went above and beyond than anything I could imagine. I honestly don't know what we'd do without you! You were there for every single day if we need you, you'd call us back immediately, you made our life so organized and were on top of everything! Our day was special because of you! From the very first initial consultation to the day of, creating my emergency kit, helping me when I needed it, I knew I could trust you with everything! If you decide to choose Our Day Events, you won't regret the choice at all.
Thank you for everything Anisha ❤️

Hagin & Stephanie
Client
My husband and I were initially not going to have a wedding coordinator. We thought it was more of a "good thing to have" and not something you "needed to have". Needless to say, we were wrong. A month or so before the wedding, my husband and Anisha chatted and we found out we were really behind schedule. With work and wedding planning, things just weren't getting done and we realized we needed help. Anisha graciously took us under her wing and went above and beyond to successfully organize our wedding. Her passion for event planning, hard work, kindness and genuine care for her clients really stood out to us. Despite being in another country, she was always available for questions and honestly provided her opinions with the best intentions for us in mind. We felt like we were in safe hands the whole time. Everyone who came across Anisha over the course of the wedding planning process was impressed with Anisha's attention to detail and organizational skills and pointed out that she was "on top of her game"; we couldn't have agreed more!! 😊Anisha, you were such a pleasure to work with. All the guests commented on how smoothly the day went and the entire credit for that goes to you. Thank you so much for coordinating our wedding, it couldn't have been what it was without you.
We love you 😘

Joseph & Pravitha 
Client
Working with Anisha was one of the best decisions we made when it came to deciding who we wanted to coordinate our wedding. Anisha is not only committed when it comes to wedding planning, but she is also passionate! Having a passion for coordinating weddings is not a talent everyone has, but Anisha definitely has acquired that talent. She is very sweet and honest, which made planning our big day even easier. Communication is vital when it comes to things like this. Anisha was very easy to communicate with, regardless of the time of day. From the daily text reminders to motivating quotes, you always reminded us that everything would go well and to relax! She showed that she cared and truly wanted the best for us! We can truly say that our big day came out beautiful and well planned out! Anisha, you are great at what you do! We are ecstatic that we were able to work with you!
Thank you for everything! ❤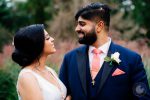 Roshitha & Stanly
As Anisha, founder and CEO of Our Day Events, explains at her initial consultation meeting, she chose to name her company as such because she will truly treat your wedding day as hers as well. Then she goes on to spend the time leading up the wedding doing EXACTLY that. As many 2020 couples probably also experienced, the pandemic threw our wedding plans for a loop – we ended up changing our wedding date twice! But with Anisha and Our Day Events we never felt a sense of loss or panic during these crazy times. Our Day Events took up the mantle of planning essentially three weddings for us with ease, empathy, and joy.
From the outset, my husband and I were not exactly sure of what our vision for this wedding was, other than the fact that we wanted a fun night with our family and friends. With what little we offered, Anisha guided and offered us so many ideas so we could curate the perfect day – and that day turned out even more perfect than we could have imagined. Other than choosing each other, the best decision we made for this wedding was hiring Our Day Events. If you are on the fence about hiring a planner (for any event, wedding or otherwise), we HIGHLY RECOMMEND Our Day Events by Anisha Ninan. You will not find a more organized, empathetic, patient, and creative team to make your dreams come true.Thank you, Our Day Events, you took what would have been the most stressful time of our lives and made it into an adventure.
Words could not express our gratitude!

Lt. Sean & Lauren Sorensen
Client
Anisha and Our Day Events helped our wedding go off seamlessly. My mother and I both noticed that Anisha thought of things we hadn't even considered.
We loved having someone so professional, kind, personable and organized to help us create a beautiful day.

Fuad Mustafa
Client
From the first time we met Anisha, my wife and I knew we were in good hands. I remember leaving that meeting feeling very hopeful that our big day would turn out perfect. As our Day-of Coordinator, Anisha planned out a VERY detailed schedule for the entire day that included not only us, but our families, wedding party, and our vendors. She was in constant communication with all parties and made sure everyone was on schedule which is no easy feat in South Asian culture! For any additional items or services we needed last minute or weren't provided by our vendors, she either provided them herself or knew just where to acquire them. When our venue gave us issues regarding our wedding plan, Anisha stepped in and negotiated on our behalf to get us what we wanted. I would definitely recommend her to all my friends/family. We honestly can't imagine how our special day would have turned out without her. She treats your special day as important as her own.
As the name implies, it really is "Our Day".

Nahid Sultana
Client
Anisha from Our Day Events was an essential asset to our wedding day. I was completing medical school and traveling a lot for rotations while I was planning my wedding so I really needed to bring someone else on board that I could trust to get everything done. Honestly, before I even signed her, I felt a huge weight lift off of my shoulders after our first phone consultation. Anisha patiently beared with us through our busy schedules. We brought Anisha on board for our day-of coordination needs but she really went above and beyond. She supplied our event with anything that was not provided by other vendors. She helped us prepare our party favors, supplemented our decor needs, collected all our supplies for the day-of to have her team set up and collect at the end, and even went on a chick-fil-a run to feed us during morning preparations on the day-of! Whenever any issues arose, she quickly took the initiative to solve the problem. She made an extremely detailed schedule for the day-of events that I could never have made on my own. Keeping brown people on Eastern Standard Time and not Desi Standard Time is not an easy feat, but she kept us on schedule! She brought Joleen from JT works in to make our place cards and decorative order of events display; Joleen did amazing work–she listens to exactly what you want and makes your vision into a reality! Anisha has assembled a strong team dedicated to making your event run smoothly. Even when we were thrown curveballs on our big day, they graciously handled them. Anisha was always positive and enthusiastic throughout the exciting, yet stressful planning process.
I would recommend Anisha to everyone for their party/wedding planning/coordination needs!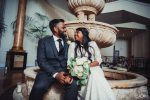 Jenny & Tijoy
I just want to take a moment to highlight this beautiful, amazing, superhero of a woman who gave us the most stress-free months of wedding planning and then made our wedding day happen on schedule to the minute! Anisha, we didn't know we needed you but boy did we need you. Not only did you help us with just day-of coordination, but you went above and beyond when you saw just how clueless we were and helped us figure out almost everything!! It must have been treacherous work keeping us on task and on time with all our decision making, but girl you did it! You made our lives a billion times easier and we can't thank you enough!! We love you so much!
If you guys are looking for a fantastic wedding planner and/or day-of coordinator who will do everything you ask and more, I will always recommend Our Day Events.

Tony & Anju
Client
We recently hired Our Day Events to plan & organize our Gender Reveal party. The whole event was planned with precision, significantly under budget, and exceeded our expectations in every way. A huge shout out to owner/CEO Anisha C. Ninan for her passion & dedication to ensuring that every minor detail was taken care of. We also appreciate her set-up/tear-down team that worked to ensure that all decorations were up on time & taken down and cleaned up after the event. After working with multiple other event planners in the DC region over the past several years, I can confidently say that Our Day Events stands in a league of its own.
Tony, Anju & Baby Z(s)
Dr. Vishaka & Mr. Harrison
Client
We can't begin to thank
Anisha
and Our Day Events for helping transform our vision and plans for our dream wedding day into a reality! My now husband and I were both stationed in Ohio throughout the wedding planning process, and our wedding was in Virginia, where my parents are.
Anisha
made the distance seem nonexistent, paid incredible attention to every detail- including details we had never even thought about even though we prided ourselves on our planning abilities. She not only helped to fill in the gaps in our planning process, but was so friendly and professional throughout the whole thing. She went out of her way to make sure she kept our parents in the loop and helped them feel heard, all while keeping our vision and dreams as her main goal while working to make our Hindu-Christian fusion wedding a beautiful success. With so many moving parts and no matter the wild wrenches that were thrown at us,
Anisha
handled every obstacle with grace and kindness, and made sure we remained happy and stress-free throughout our big day! Could not be happier with how everything turned out, adding Our Day Events and
Anisha
to our dream team for our wedding was one of the best decisions we could have ever made! Thanks again!!